Device: Samsung Galaxy A53
OS: Android 13 / OneUI 5.0
K-9 Mail: 6.400
OpenKeychain: 5.7.5 (57500)
K-9 Mail and OpenKeychain are exempted from Battery Optimization and are not in Standby or Deep Standby.
I have read New install, cannot send, cannot connect to encryption service? - #2 by kjo and How do I make K-9 Mail work with OpenKeychain on Xiaomi's MIUI?.
I activated OpenPGP support in K-9 Mail with standard settings for my one and only E-Mail Account.
After composing a draft (only a few letters, no E-Mail address or subject entered) and hitting save I get an error message "Verbindung zum Verschlüsselungsdienst fehlgeschlagen…" (see also screenshot).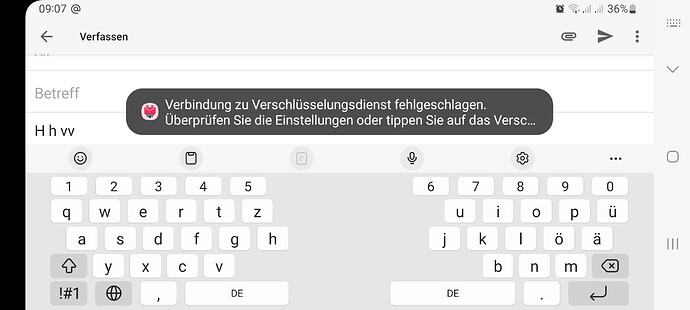 This error is reproducible. On Android 12 the error seemed to come up only in case K-9 Mail was opened via the share menu from Android or when an E-Mail Address was clicked on a website in Firefox for Android. On Android 13 the error is always triggered when saving a draft.
I can decrypt messages without an issue, the general setup seems to be OK.
Any help to solve the issue or confirmation of the issue is highly appreciated.
Thank you!
wurstsemmel