Am I correct that it can't be installed on a Chromebook?
Being android related, I thought it would.
Hmm, from how I understand Chromebook support in Android apps, it should work. I do not own a Chromebook myself, though. Do you get an error message?
Hi, this took me a while to run down and sorry for the length.
Chromebooks apparently vary for being able to run Android apps.
I mistakenly thought the one I bought being called a 'Lenovo Chromebook Duet' would.
It's one of the hottest sellers out there and Best Buy often runs of of stock of them, selling it for $299 (128gb of storage version). It's a good option for students and non-students like me who want the tablet/with or without a keyboard option.
The comparable version of the Microsoft Surface Go would run over $700.
But this article reviewing them thinks that most Android apps work on the Duet.
Seems like false advertising to me and here's where I tracked down the real story as best I can tell, since it's from Google.
This Google Chromebook Answers page has a link to 'Learn which Chromebooks support Android apps'.
The title of the page is 'Install Android apps on your Chromebook'.
Yeah, ok . . . but mine isn't there!
The other informative part of this page that really puts the stake in the heart of my hopes is it instructs how to see if my machine can install apps.
The 'Sign in to the Google Play Store' section says in Step 4 I should see a 'Turn on' button if I can install Android apps from the store.
This image of my Chromebooks shows it doesn't have that button whereas the Linux section does.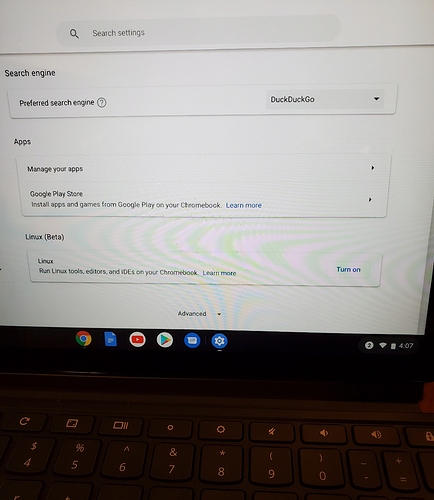 I don't understand what Google is thinking with this inability to load apps on this model, and others.
I plan to call Lenovo support on Monday to see what they can tell me.
Maybe Google has an upgrade in the works, or with prodding will consider doing so.
I'd sure like to use your nice app on it, along with others I'm likely to find useful.
What does it say when you press that "Google Play Store" button?
There is no actual button, there should be one to the right of Google Play Store that says 'Turn On'.
If that button was on that Settings page, I'd be good to go and presumably could install your app and other Android apps, but it's not there.
As you suggested - and that's smart in order to cover all the bases - I did click on what is there, i.e., the Google Play Store text (the arrow to the right of that also goes to the same place), it takes me to the settings page shown in the image below. I then clicked on the Manage Android Preferences option and since I can't install Android apps, there's nothing to manage.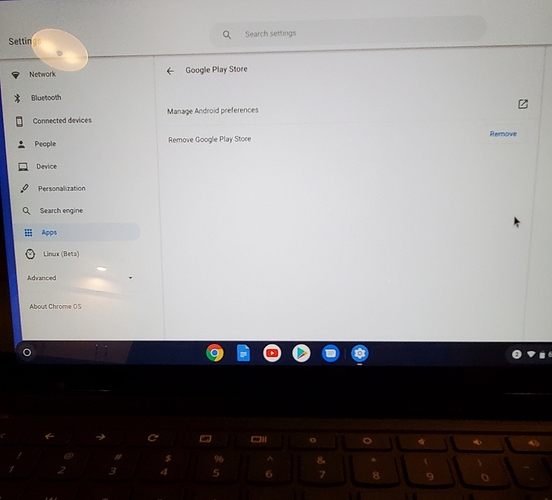 Here I clicked on the Linux button that says 'Turn On' on the Settings page.
That takes me to the 'Set up Linux' installation setting below.
If there were a similar 'Turn On' button for 'Google Play Store', I expect I'd see a similar 'Set Up Google Play Store' installation.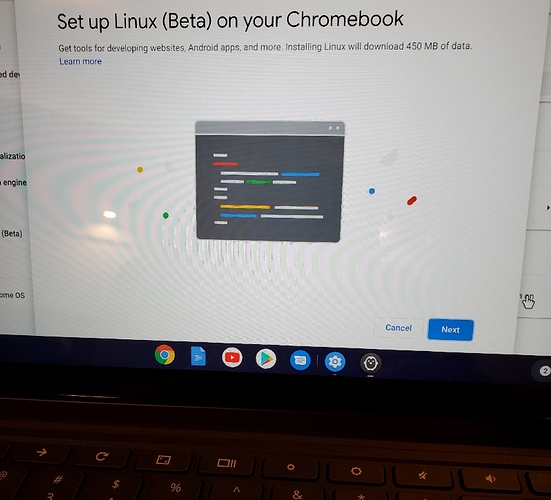 I just split your thread and made 3 individual threads out of it. I hope that this does not get confusing but we are basically dealing with 3 different topics here

"Remove Google Play Store" sounds like Google Play it is already enabled. What happens if you press the Google Play icon in the bottom bar?
That worked, excellent.
I now have K-9 Beta installed on my Chromebook Duet and all three accounts up and running.
I'm happily puzzled as I thought I already went to the Google Play Store and was unable to install K-9.
That it indicated it was already installed on all my devices and listed only my phone.
That is not the case of course.
Thanks for you patience and taking the time to help me get this installed.
And also my appreciation for separating out my three issues into different threads.