Hey guys!
I am trying to connect to my email "git@pierrefhapp.dev". I can connect to it without any issues on my thunderbird desktop client. But on k-9mail i get an error with bad certificate.
Android 10
LineageOS 17.1 with microG
K-9 Mail version 5.733 from 26/03/2021 from f-droid
Steps:
open k-9 mail
add new email account
type git@pierrefhapp.dev with any password
next
choose imap
next
Error: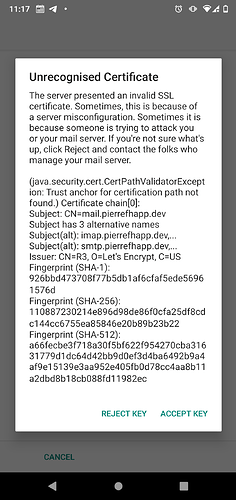 Can anyone verify that I fucked up with the certificates? I thought it is working just fine. If i am testing my sent message against some spam filter testing I also get 10/10 raiting.
Or does someone have a tip on how to fix this?
greetings