Hello,
I bought a OnePlus 7T (OxygenOS 11 / Android 11) and would like to use the K9 Mail.
K9-Mail (v5.806) is running great but i have one question.
When the smartphone is at the desk and a new mail arrives is this displayed on the Always-On-Display as shown in the picture. Everything is wonderful at first mail


If the second mail is incoming and has the Title "Mail 222" the mail title is also "Mail 111".
If there is incoming another third mail with the Mail Title "Mail 333", the displayed Mail title is also "Mail 111"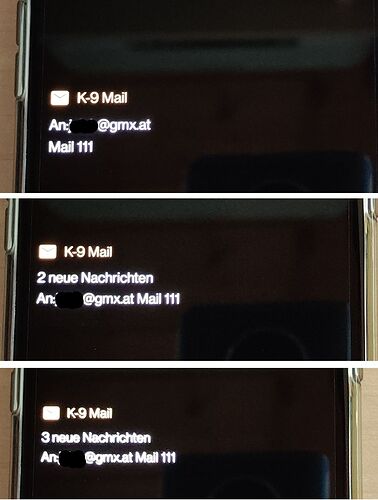 So i can see there was three new mails (okay, from the same sender), that is okay.
But always i see only the "mail title" from the first mail.
Is there any setting, that the Always-On-Display is always displayed the mail title from the last incoming mail?
Thanks very much