I've come straight from github for some advice if possible…
From here
I simply cannot find the location where my downloaded attachments are stored. Neither by navigating to the correct folder using a file explorer nor by using the search field of my file explorer to locate the files
I have a Pixel 2 XL running Android 11 and K9 version 5.718.
For me the Download Manager is not storing saved files from K9 in the Download folder. Settings > Storage > Files > Download. This is the Files app not Files by Google app. If I download an embedded image and view it in Photos the app gives the path as…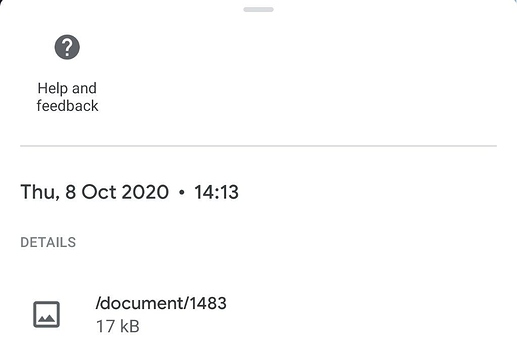 …the path pictured doesn't exist where I can access it and I have no ability to move the file. I have Documents not /document, I don't have a folder called 1483. I have searched for multiple file and folder names that I've managed to glean, so far as I can tell, they are not anywhere to be found.
Attachments or embedded media that aren't saved but instead opened in a viewer are stored here: com.fsck.k9.tempfileprovider/temp I believe. A .zip opened in KeePassDroid, which listed the path. I can't see a way to save these files. There is no option in k9 nor in the apps they happen to open in.
Is this an issue or expected behavior? Thank you.