How can i see the difference between unread and Read message? Its confusing for me in newest version
It depends on the color schema you use:
Light: read mails are light gray, unread are white
Dark: read mails are dark gray, unread are gray.
This is a screenshot. 1 mail i have marked unread and 1 is Read. How can i see the difference? https://ibb.co/PtbZj6Y
Huh, they really look the same. On my device, it looks like the screenshot below. The color is different and the font is bold. Maybe your selected font does not support bold letters and you have disabled the background color setting in K-9's settings.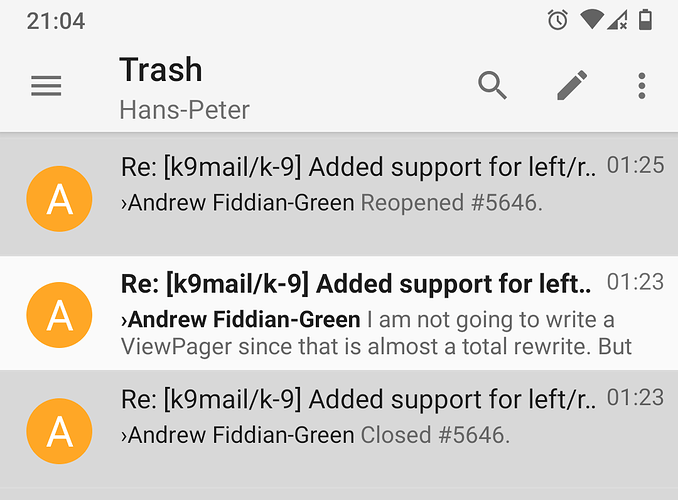 Hey you can send screenshots! I not. That happens too in White mode. And how can I select fonts? I can only change sizes like i know or is It about fonts of my phone?
You should be able to. There are some limits for new forum users. But posting one image should be allowed.
K-9 Mail doesn't allow you to change the font. The system font is used. It looks like yours doesn't support different font weights (normal vs. bold text).
You can enable the different background colors under Settings > General settings > Display > Change colour when read.
Looks like K-9 Mail now defaults to not using different background colors.
I am not sure what the default in the old UI was, as it is quite a while since I installed that one fresh.
While the contrast between read and unread is quite clear in light mode, I wasn't able to immediately tell in dark mode.
I would propose enabling the "Change colour when read" by default on new installations, to increase the visual contrast for new users, who might not find the setting otherwise.
(I didn't find the setting myself before finding this thread, and was searching around issues and the forum with the intent of making a feature request to bring back the background color difference if I didn't already find one.)