It impossible to send an email with smtpauth.online.net.
K9mail write : HELO can't be 127.0.0.1 please contact your ISP
Sorry i do not say hello and thank you
This seems to be related to
At least you get feedback it is not accepted. Other vendors accept it but silently do not deliver it, eg Hostgator
Not sure if there is a fix / workaround in the meantime
Would very much like to see K9 use something other than 127.0.0.1 or IPv6::::1 with EHLO. It's a spam trigger for many email providers.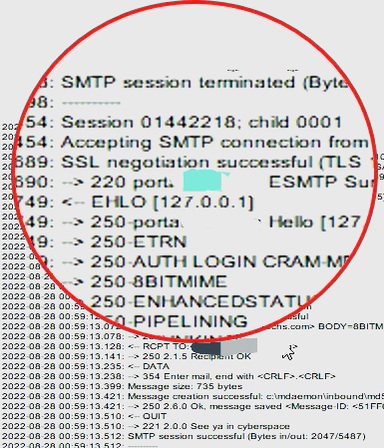 I have the same problem with the 6.202 version, BUT !!!
On my old phone (android 4.0.4) I am using the 5.600 version and it works perfectly.
Outgoing server: smtpauth.online.net ; STARTTLS ; port: 587 ; require sign-in ; normal password
On a more recent phone, I am using the 6.202 version (for my gmail address and it works) but for my address with online.net with the exact same settings mentionned above I get this feedback :
Failed to send some messages
HELO can't be [127.0.0.1]. Please contact your ISP
"my username" of my outgoing server… (that differs from my Email address of my initial identity)
Hope this information will help.
As you write yourself: You are using different versions of K-9. Thus, you are NOT using the exact same settings.
Under 5.6, you have the general settings → privacy → hide mail client disabled. Therefore, K-9 sends the mail using your real IP address.
Under 5.8+ the address is set to 127.0.0.1 or ::1.